It being fall, and I loving pumpkin, I decided to make my own

pumpkin muffins

to supplement the pieces of pumpkin breads that my loving D brings home for me on days when he takes J for lunch to our friendly veg-Ital shop on Washington for a vegetable or soy pattie and maybe some vegan ice cream.

These muffins are perfect for breakfast or a snack or a second breakfast. They are light and moist (although if you add the extra T of flax below, they are less moist). It's hard to stop after just one!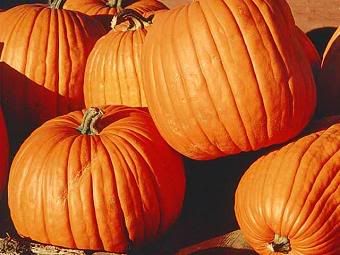 I've worked on this recipe a bit and tried it a few different ways. These muffins have been devoured, so I am making them regularly now (or as often as I can get organic canned pumpkin!). I need to get some more pumpkin from the store on my way home tonight, as we finished the last of these for breakfast this morning. :)
Ingredients
2 T ground

golden flax

plus 6 T water
1 can organic canned

pumpkin
1/4 cup organic

oil

(canola or sunflower -- don't use olive)
1/3 cup

maple syrup

(I'm now using the HUGE container that D brought back from Canada on his last trip)
1 1/2 cups

spelt flour

(ground by the farmer!)
1/2 tsp

sea salt
1 tsp

baking powder
1/2 tsp

baking soda
1 T

flax

, if desired (I find adding the extra flax makes the muffins less "wet" after baking)
1/2 tsp

ground cinnamon
1/4 tsp

ground tumeric
1/4 tsp

ground cloves
1/8 tsp

ground nutmeg
1/2 - 1 cup

chopped nuts

(I use pecans)
12

whole nuts

to top muffins
cinnamon sugar, ground nutmeg, etc for topping muffins
12 biodegradable muffin liners
What To Do
Preheat the oven to 370 F (350 F for those of you without finicky ovens).
Whisk the flax and water in a small dish and set aside while you prepare everything else.
In a medium bowl, whisk together the pumpkin, oil, and maple syrup.
In a large bowl, stir together the spelt flour, baking soda and powder, salt, and spices. Add the extra ground flax if using.
Whisk the flax and water together again and add to the pumpkin mixture, whisking to combine. Add the wet ingredients to the dry ingredients and stir or whisk to combine. Make sure to get any pockets of flour incorporated into the batter. Add the chopped nuts if using.
Prepare your muffin pan with the muffin liners. Fill the tin. Top each with a whole pecan or other nut. Sprinkle the tops with freshly ground nutmeg or cinnamon or cinnamon sugar, or whatever you may like.
Put in the oven for 35 minutes. If your oven runs hot, check at 30 minutes. A toothpick inserted in the center of one of the middle muffins should come out clean. Remove from the oven and let cool for a few minutes before transferring to a cooling rack. Try to wait until they've cooled a little before you start to devour them!